04 Our passionate professions
01 The food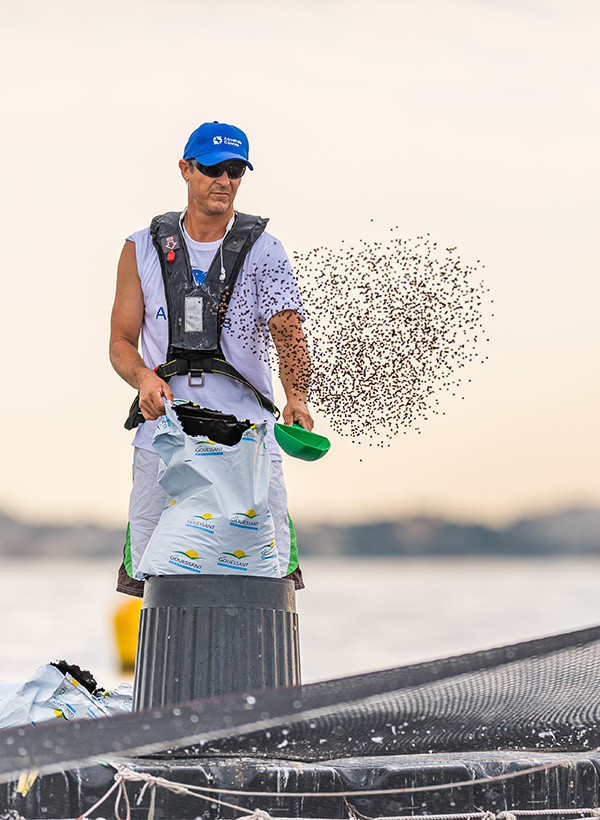 A HEALTHY & SUSTAINABLE FOOD
Our feeds are rich in proteins specific to sea bass and sea bream. They are composed of fishmeal from co- products of species coming from sustainable, quota-managed fisheries. Guaranteed hormone-free, TAP- free and GMO-free, our feeds are certified by Oqualim and Global GAP.
A REASONED AQUACULTURE
Each cage is closely monitored to ensure that the ideal feed portion is provided to each fish. Monitoring our resources contributes to the well-being of our animals and to the preservation of our environment.
02 The structures
LOW-DENSITY FARMS

Our farms are characterized by small structures, and our fish grow in cages with a low average density (less than 20 kg/m3). Based in the Natura 2000 area, our marine farms are subject to wind and to strong currents, which ensures the water has an optimal temperature and quality.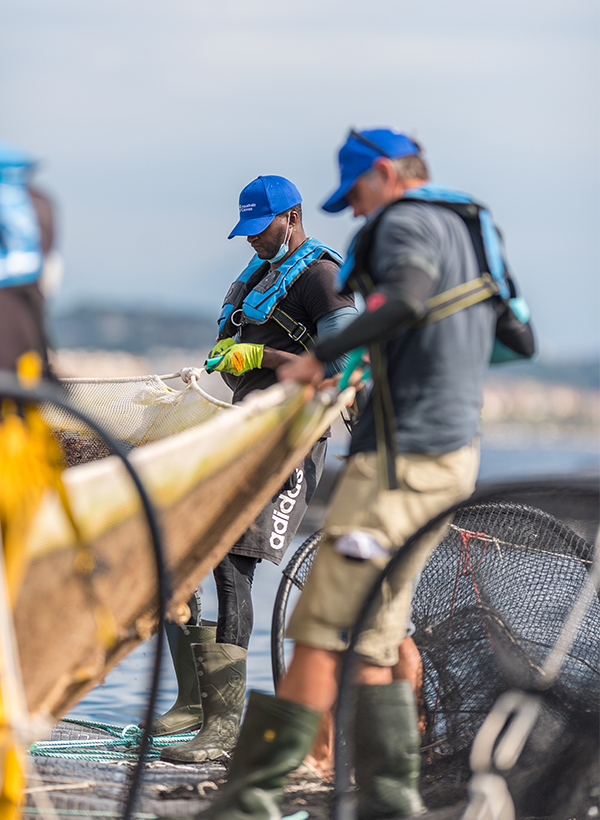 A SMALL-SCALE BREEDING OPERATION
Our nets are not treated with anti-fouling, so they have no environmental impact. We do not use any chemical products and wash them with a Karcher washer. This way, our fish live in a healthy and oxygenated environment.
03 Fishing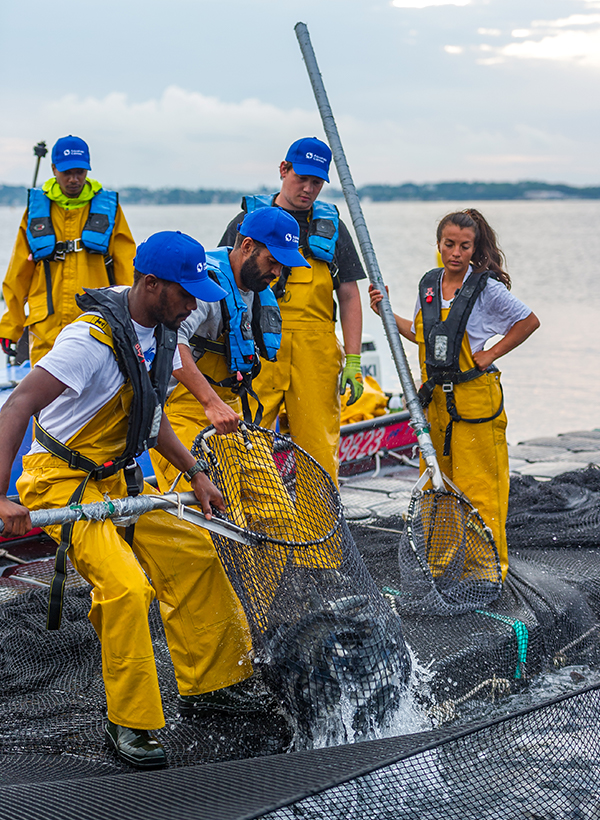 HAND FISHING
We fish everyday daily with "salabre" nets, paying attention to the animals' well-being and to the quality of our fish. Based in the open sea, our farms are accessible in 10 minutes only by boat, which guarantees that our fish is delivered quickly to our packaging facilities.
FROM THE SEA TO OUR CUSTOMERS
Our fish are immediately packaged whole after slaughter in an ice and sea water blend. Our position on the French Riviera guarantees delivery within 24 hours to our first customers, and within 48 hours anywhere in France.
04 Diving
PROXIMITY TO LIVING BEINGS
Through daily dives, we ensure a precise management of our breeding, and we build a proximity with the animal which is beneficial to its development. Manual procedures allow us to select and take care of our fish throughout the whole production cycle.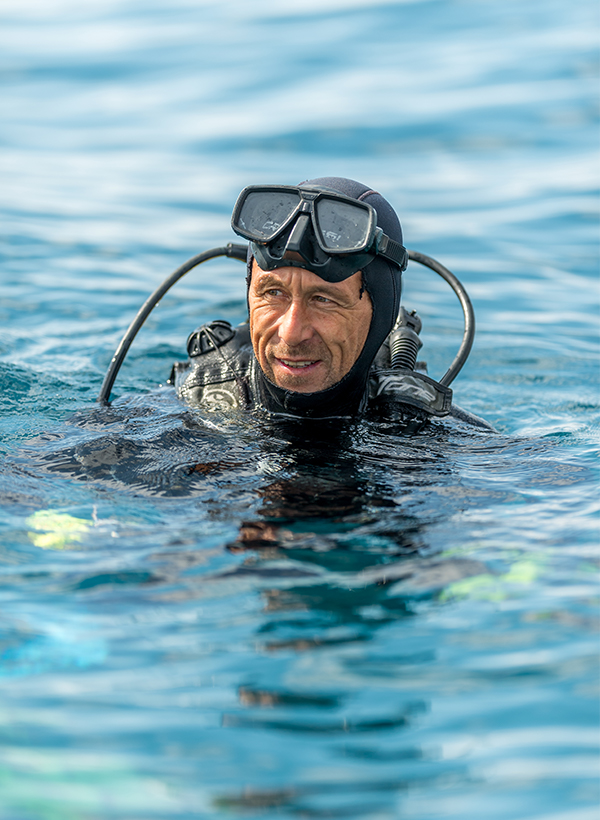 A DAILY FOLLOW-UP
We pay particular attention to the low density of our cages, to the maintenance of our nets and to the delicate slaughtering of our fish. Our commitment to respecting the living world contributes to the organoleptic qualities of our products.

05 The environment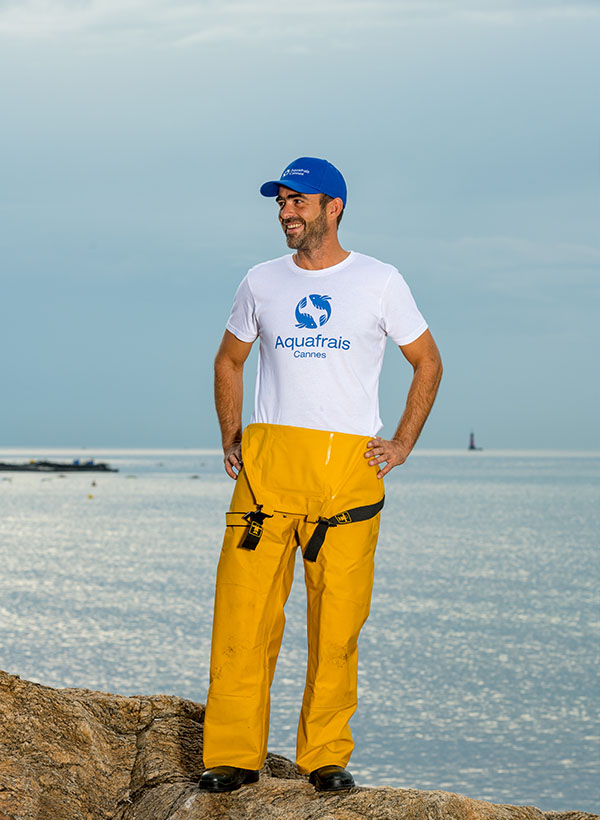 CONTROL OF THE ENVIRONMENTAL IMPACT
Ever since our foundation, our farms combine the concepts of sustainability, traceability, and transparency, to preserve our working environment and the quality of our products. We want to build a world where the environmental impact of animal proteins productions is completely under control, and where marine aquaculture is perceived as an answer to the questioning on "better consumption".
DEVELOP FRENCH OPEN SEA AQUACULTURE
We want to develop marine aquaculture on French coasts to ensure sustainable, responsible, and healthier products for consumers.
06 Packaging
TAILOR-MADE QUALITY
Our fish are immediately packaged whole and according to their size as soon as they come out of water, after a delicate slaughter by immersion in a sea water and ice blend. Our teams are trained on fish sizes to perform visual and manual selection of each fish before packaging.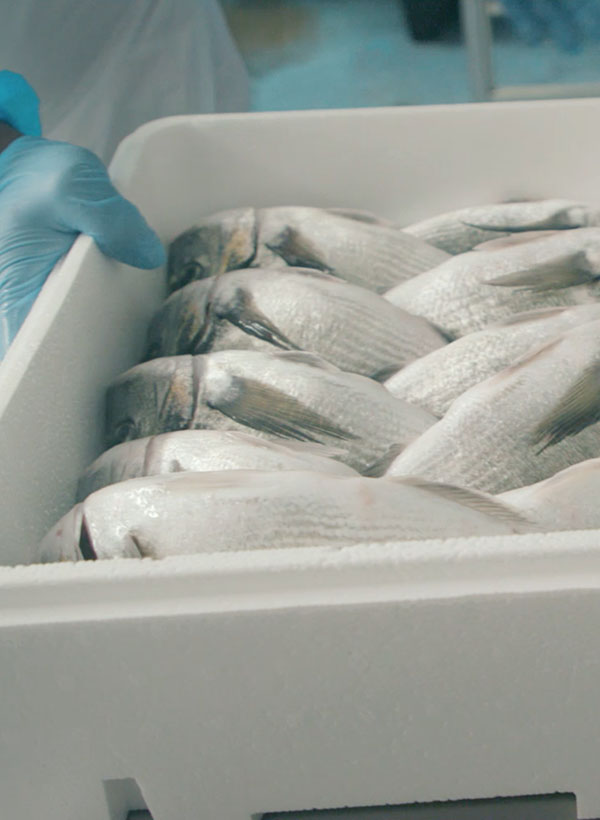 OUR CHOICE: ZERO STOCK
We fish daily, and only on demand. We do not keep any stock in order to guarantee the ultra-freshness of our products, and to offer our customers an ultra-fresh French marine product, which tastes as good as wild fish.
07 Our facilities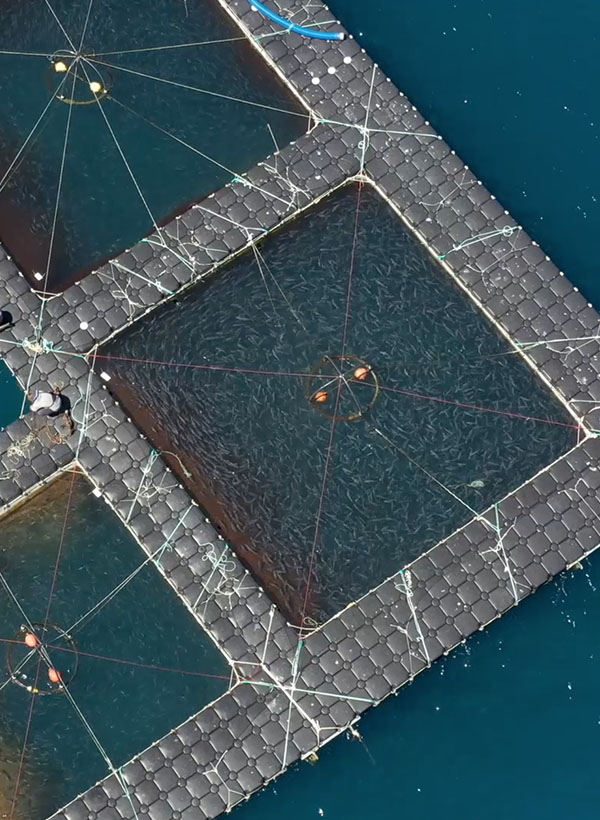 LIVESTOCK FARMING VIEWED FROM THE SKY
Located on the open sea, our sites are accessible within 10 minutes by boat, which guarantees that our fish is delivered quickly to our packaging facilities. Our position on land in the heart of the French Riviera guarantees delivery within 24 hours to our first customers, and within 48 hours anywhere in France. It is this logistical ability that allows us to deliver an ultra-fresh product throughout the year, anywhere in France.
OUR POSITION IN THE BAY OF CANNES
Our 4 sites at Cap d'Antibes, La Batterie, Îles de Lérins and Figueirette enjoy the benefits of an ideal location for our aquaculture activity: good quality of water, wind and currents, and proximity to the markets.
Contact us
Are you a professional, distributor, restaurant owner or wholesale fishmonger looking for an ultra- fresh and sustainable product? Our products are adapted to your needs and are available in different sizes.
Contact us